Worldwide door-to-door shipping
We pick up from your home, office, hotel, or anywhere you're staying.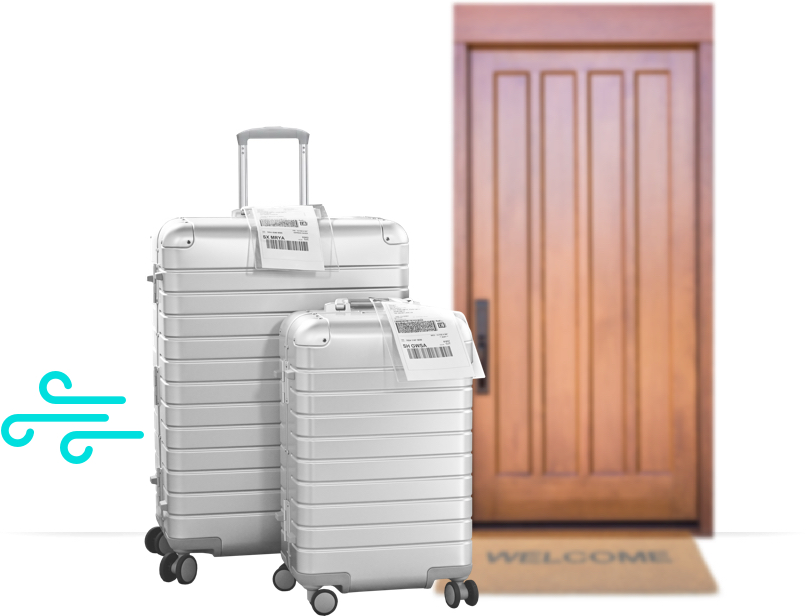 Traveling has never been more convenient. Just securely attach the shipping label to your bags and our white glove service will do the rest. From doorstep to doorstep, we'll pick up your bags to and from your destination. Don't waste time at the airport counter or baggage carousel, ship & go.
We ship all of your luggage
Ship your luggage, golf clubs, skis, snowboards, and more!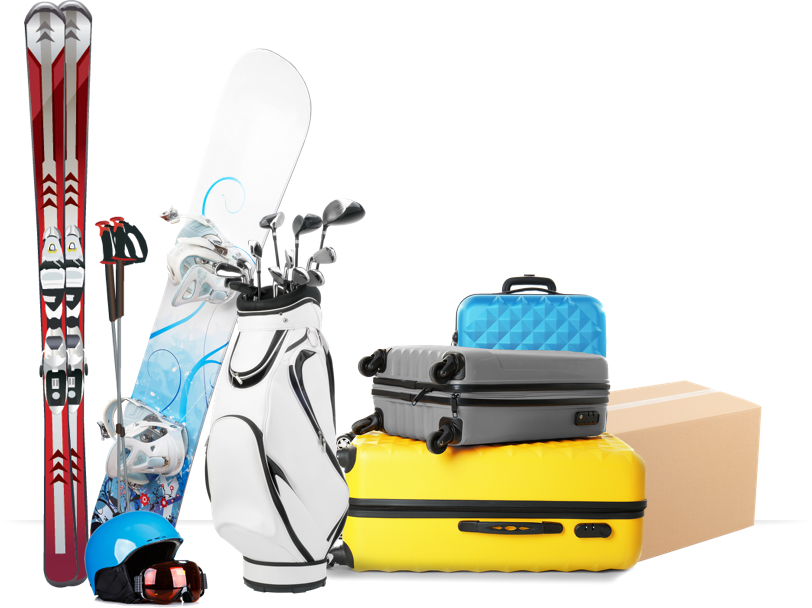 We ship your luggage, sports equipment, and pretty much anything else so you can get a head start on your vacation. Avoid excess baggage fees and ship your luggage ahead. We'll handle your bags with care and deliver them on time. Travel with ease when shipping with the experts.
The Best Way to Ship Luggage
Skip the airport hassle and breeze through bag-check and baggage claim. Ship your luggage ahead and travel stress-free. With our on-time guarantee and complementary value protection, your luggage will be safe and waiting for you at your destination.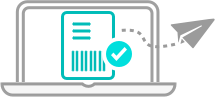 1.

Book & Get Label
Shipping luggage is a breeze. Schedule your shipment dates online and you'll receive the shipping labels for the trip.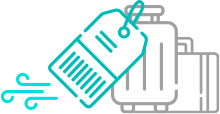 2.

Attach & Ship Luggage
Pack and securely attach the shipping labels to your luggage. We'll pick up from your location or you can drop them off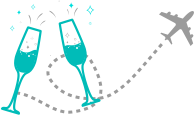 3.

Travel With Ease
Skip through the airport and save time without carrying any luggage, knowing your bags have been taken care of.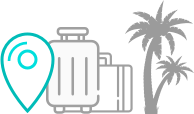 4.

Relax
Enjoy your trip and arrive stress-free. Your luggage has been shipped and delivered at your final destination.
We've got you covered
From our dedicated customer service team to our on-time guarantee, we take care of all the work so you can relax.
Complimentary value protection included with every shipment.
Real people, customer service 7 days a week.
Dedicated team tracks your bags every step of the way.
Cost-effective pricing with exceptional service and value.
Unbeatable industry leading white glove luggage service.
On-time delivery guarantee or your money back.
Luggage shipping reviews
We make traveling stress-free like it's supposed to be. But don't take it from us, here's what our customers are saying.
Never again will we schlepp our luggage through any airport. We had our bags picked up at our front door and delivered directly to the resort. We will never bring our luggage on the plane again and have recommended ShipGo to everyone.
Benjamin S.
This is my 3rd or 4th time using ShipGo. What a great company and great service. I cannot imagine why everyone would not use this. Incredibly fair pricing and zero grief and aggravation. Very rarely leave reviews but this company is AWESOME.
Kyle P.
We all left our destination and went to the next stop on our trip. Some of the group went back home while others kept going. The ShipGo team was able to handle multi-leg travel destinations with many different individual itineraries with no issues whatsoever. It alleviated the stress of airport travel and allowed us to really enjoy every aspect of our vacation.
James H.
We were thrilled with ShipGo service. Fast, efficient and it beat the heck out of carrying our gear through airports, trains and funiculars. Would do it again in a heartbeat. Customer service was excellent.
Jackie L.
We had a really good experience with ShipGo. They helped us get our luggage to the resort and back with excellent service, responsible staff were great to work with. A company with a conscience and we will use them again.
Jennifer P.
Outstanding service with fantastic customer support! I had a fantastic experience using ShipGo for the first time to ship three sets of luggage from Michigan to Florida and back over this past winter college break. Everything worked as advertised but the most impressive aspect is their proactive approach to customer service, i.e. they are in constant contact by email and phone, providing reassurance that the delivery is tracking and on time, plus I was always able to talk to a representative when necessary with essentially zero wait time.
Paul S.
A seamless way of shipping your luggage. I have found not having to haul my luggage around in an airport is an incredible advantage. Absolutely No drama, which I would consider the highest sign of efficient service.
Will B.
The customer service was over-the-top outstanding. I had a delivery issue and the group (it seems the customer service people work together as a very tight unit) made huge efforts to solve the issue.
Mike J.
This was my first experience with ShipGo, so being totally honest I was concerned. Would my luggage get there on time, and in one piece? Between the emails from ShipGo, letting us know on pickup, tracking shipping, and when luggage got back to me. May I say we were extremely delighted. ShipGo does what they say. We would use ShipGo again.
Daniel C.
Super easy and truly convenient. I changed planes 4 times (and airlines twice) to make it to my destinations and never had to worry about my bags – while some of my buddies were idling around baggage carousels. I'll never drag my luggage to airport again.
Jim M.
This couldn't be easier! Reserve online, print the shipping ticket, attach to your luggage and drop them off at the local shipping outlet. A couple days later, they show up. No hassles, no dragging a big bag through the airport. I love this service.
Kevin G.
The only way to ship luggage. Pick up of luggage was great and they arrived at destination just when they said they would. To send them back, I just had to put the packing slip they e-mailed me on to the bag, and I dropped them off at UPS office, and they were delivered back to my address as promised. I will absolutely continue using ShipGo whenever I go on any trips.
Carl J.
I was a 1st time user of your service for my recent trip to Orlando, FL. I found your website very user friendly and very informative. I greatly appreciated the customer support that you provide me when FedEx arrived to get my luggage at the resort and my label was put on incorrectly. You and the resort took the initiative to call me and let me know there was an issue, but you emailed the hotel my reservation. They then were able to print out my return label so my bags could be shipped to my home in MA. I thank you for the excellent customer service. I look forward to using ShipGo again and again.
John M.
Last week I used ShipGo for the first time. While trying to figure it out online, I had the opportunity to "chat" which was very helpful. The process was simple. I was notified when my bags had arrived at the hotel I would be staying. I do not know why I have lugged my luggage to and from the airport and to and from the hotel all of these years. It was absolutely hassle-free. Thanks for a job well done.
Robert S.
Travel internationally and ship your luggage with ShipGo
Let's face it, airline baggage fees will only continue to rise. In fact, U.S. airlines collected over 4.5 billion in baggage fees in 2017. You're paying more in baggage fees and doing all the work when checking your luggage at the airport. Don't worry about paying extra fees or hauling your bags to and from the airport. Travel the convenient and stress-free way with ShipGo.
Unique benefits
On-time guarantee

Fully insured

Shipment protection

Real-time tracking

Personal service

Cost-effective
Customer Service
We love to travel and think everyone should do more of it. That's why we are dedicated to providing you the travel experience you deserve. Feel free to reach out to us if you have any questions. Our customer service team is available 7 days via phone, chat, or email.
Get in touch