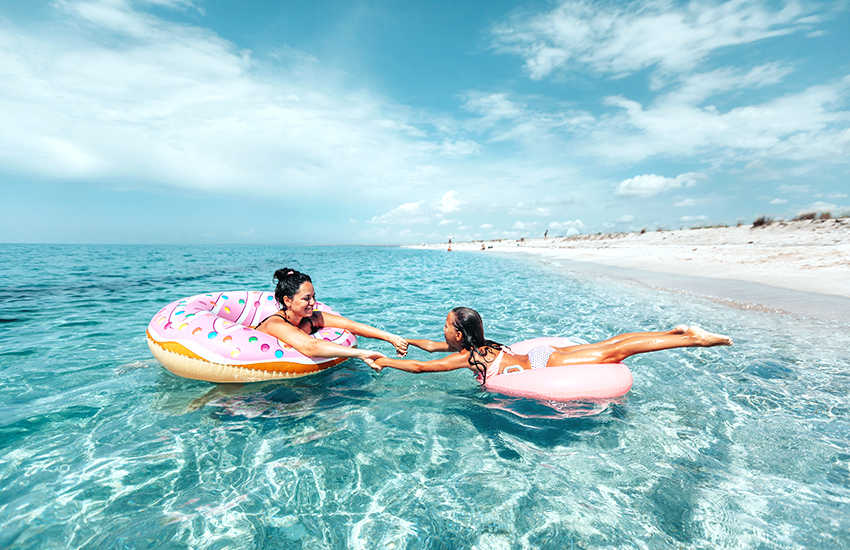 Looking to take the kids to the coast this summer? With hundreds of stunning public beaches across the nation, a budget-friendly beach vacation is surely within reach. While you may think "crowded" and "overpriced" when it comes to a beach vacation, we've found the top spots with affordable accommodations, beautiful beaches, and tons to do off the sand, too.
Spend Your Summer Beachside
1. Huntington Beach, California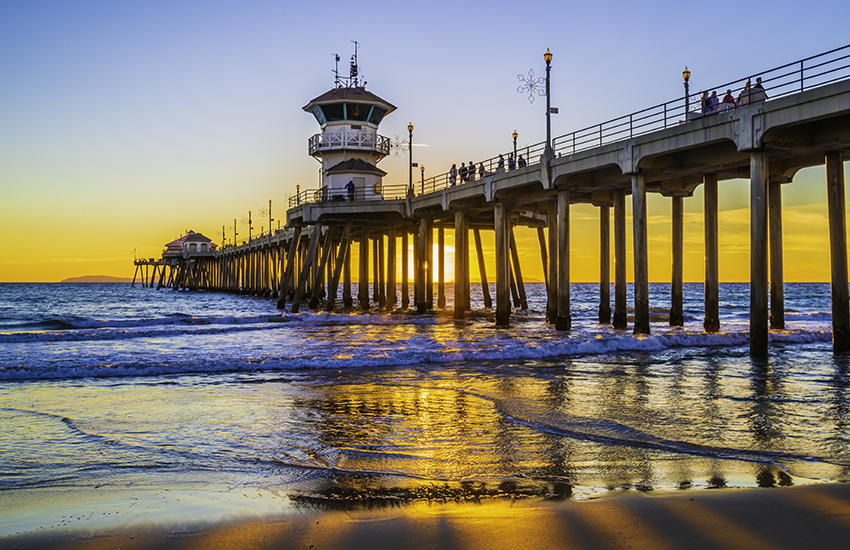 Located 35 miles south of Los Angeles, Huntington Beach is not only an easily accessible beach vacation, but it boasts some of the best surfing conditions in the continental U.S. Its 10 miles of interrupted shoreline attract thousands of visitors every summer, along with the infamous (and free to visit) Huntington Beach Pier – the ideal spot for fishing, watching surfers, or munching on a burger at Ruby's Surf City Diner.

2. Daytona Beach, Florida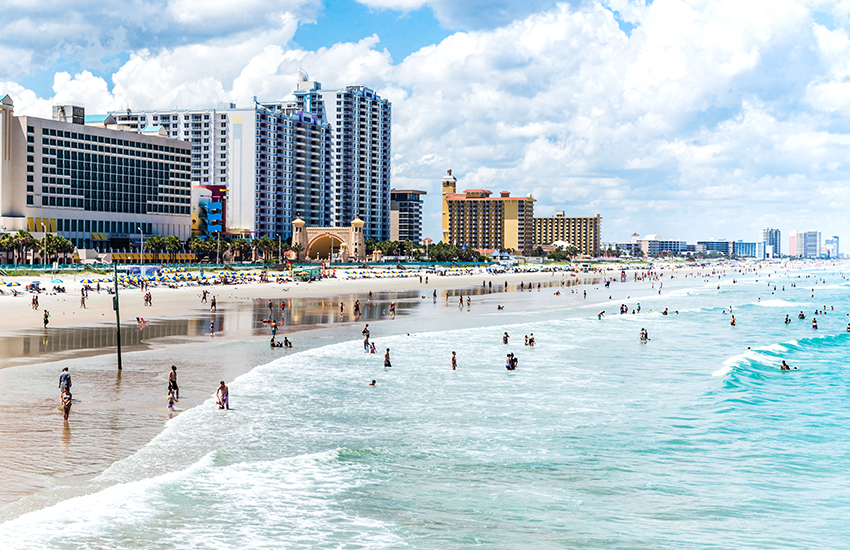 For a fun-filled beach vacation, head south to the home of the Daytona 500, one of NASCAR's most prestigious races. While visiting in the summer means missing the infamous race by a few months, you can still enjoy an hour-long tour of the Daytona International Speedway for less than $25 per person. But the main draw to Daytona throughout the summer months is the 23 miles of world-class beaches and incredible pier with amusement parks, restaurants, shops, and more.

3. Virginia Beach, Virginia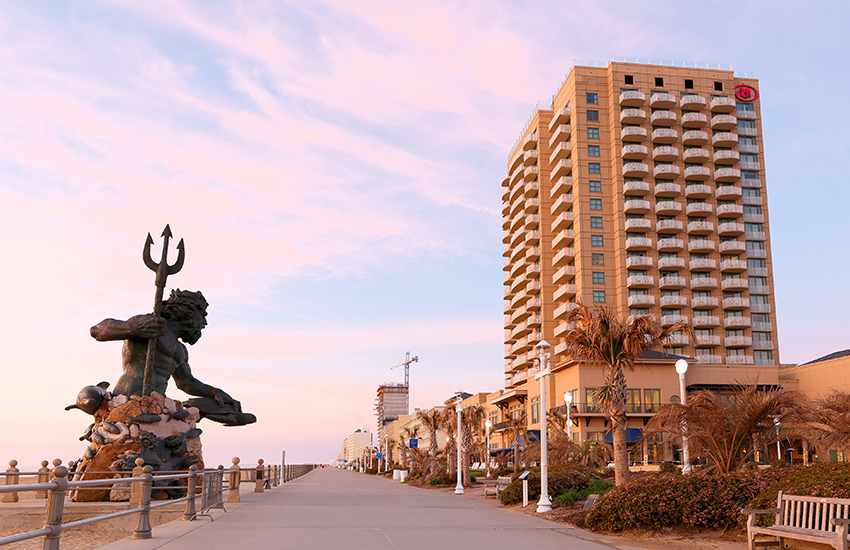 Nestled at the intersection of the Chesapeake Bay and the Atlantic Ocean, Virginia Beach offers more free attractions than any other beach vacation destination. The city boasts three, beautiful public beaches that are free to visit: Sandbridge Beach, Chesapeake Bay Beach, and the Oceanfront Resort Beach. You can also explore the Cape Henry Lighthouse for no more than $10 per person. The lighthouse was the first federally funded construction project authorized by President George Washington.
Live! on Atlantic, a summer concert series, is another free attraction located on the Virginia Beach waterfront with nightly entertainment throughout the summer months.

4. Cape May, New Jersey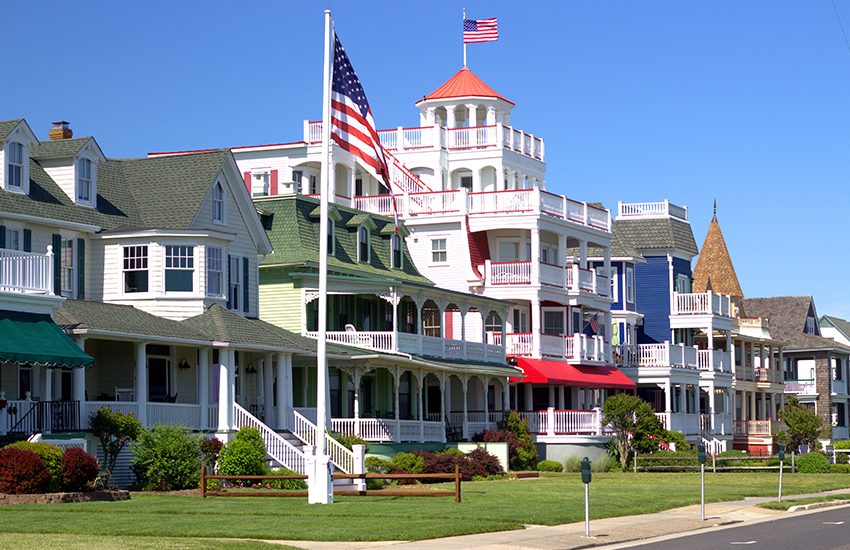 Cape May is a seaside resort town located at the southernmost tip of New Jersey. While the beach vacation destination boasts stunning, family-friendly beaches, the area is most known for its hundreds of preserved, Victorian-era buildings. Cape May also offers a lighthouse, naval aviation museum, and the Washington Street Mall – an open-air mall conveniently located within a 5-minute walk from the beach.

5. Myrtle Beach, South Carolina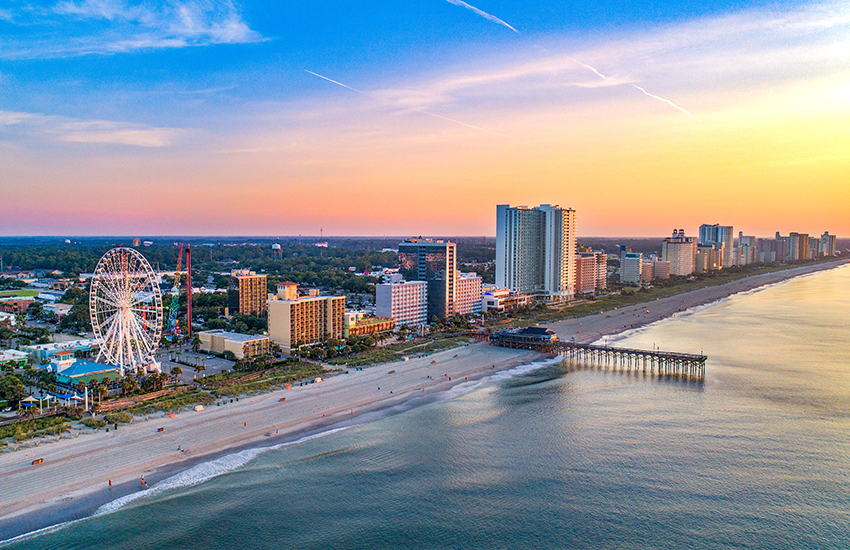 Myrtle Beach is a popular, budget-friendly east coast beach vacation in the U.S. The sound of the crashing waves is only overshadowed by the laughter of children, thumping live music, and squawking seagulls hoping to catch a stray french fry. Myrtle Beach truly offers something for every member of your family with dozens of world-class golf courses, amusement parks, arcades, shopping, and one of the tallest ferris wheels in the U.S.

The city also offers extensive watersports, including fishing, scuba diving, parasailing, jet-skiing, and more.

6. Long Beach, Washington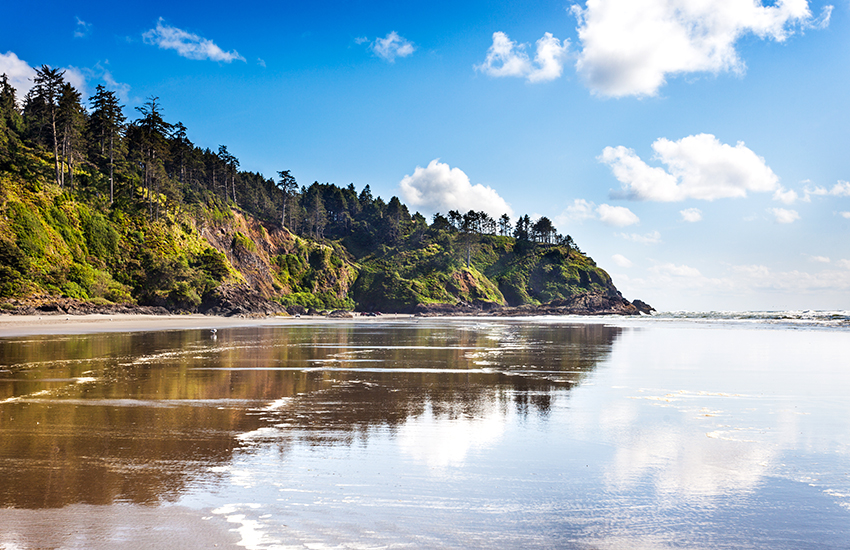 Known for its beautiful boardwalk and colorful, kite-filled sky, Long Beach is an excellent spot for a west coast beach vacation. The city is also home to one of the nation's longest beaches, hence the name, where visitors can horseback ride or drive on the sand along the Pacific. Long Beach also boasts the Discovery Trail which follows the route taken by Lewis and Clark some 200 years ago.
7. South Padre Island, Texas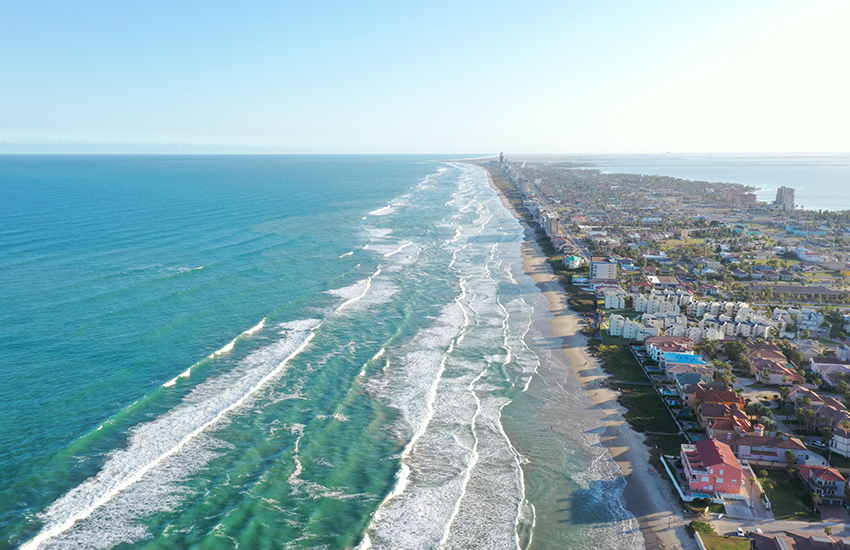 South Padre Island is located just off the southern tip of Texas. The resort town is most known for its beautiful beaches and calm water that attract visitors year-round. With impeccable weather and ideal water conditions, a beach vacation to South Padre is sure to be packed with fun. Enjoy kiteboarding, paddleboarding, deep-sea fishing, and more. For more relaxed activities, the island also offers boardwalks, nature centers, and a lighthouse among several other attractions.

8. Pensacola, Florida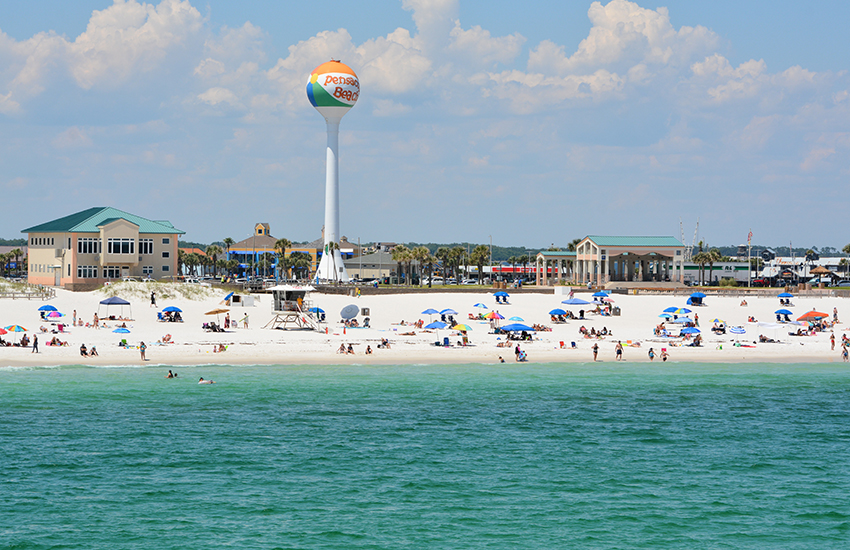 Pensacola may be most known as a spring break destination, but it's truly a top beach vacation destination every day of the year. The city's white-sand beaches and turquoise waters continue to entice visitors, but its multitude of free or budget-friendly activities make it an ideal family destination, too.

Spend a day at Pensacola Beach or venture 30 minutes west to Perdido Key for more secluded beaches and a wide array of seashells. The Bands on the Beach concert series is another excellent activity. With live music each Tuesday from April to October, you can enjoy the music, a fruity cocktail, and watch the sun set over the Gulf of Mexico.

9. Tybee Island, Georgia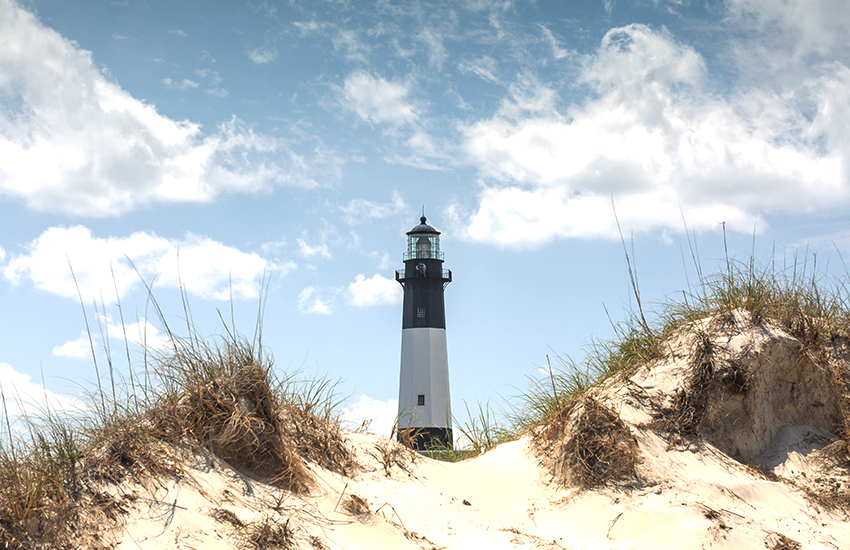 Located just 30 minutes from the historic city of Savannah, Georgia, Tybee Island offers plenty of fun on and off the water. Enjoy freshly caught and cooked seafood at local restaurants and an array of activities like dolphin watching, bike riding along the beach, or exploring the Tybee Island Lighthouse – the tallest and oldest in Georgia.

10. Gold Beach, Oregon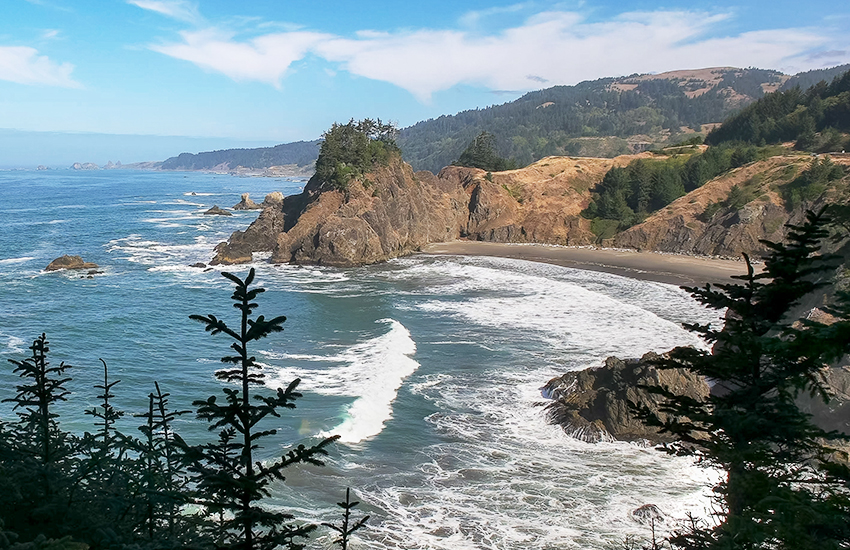 For a secluded and scenic beach vacation, there's no better destination than Gold Beach, Oregon. With a population of just over 2,000, Gold Beach doesn't see as many crowds as other beachside destinations. But, it has just as much to offer. Pistol River State Scenic Viewpoint and Otter Point State Recreation Site are some of the most beautiful beaches on the west coast. With expansive dunes, crashing waves, and towering rocks, a beach vacation to Gold Beach is sure to be the highlight of your summer.
---
Enjoy the journey to your beach vacation by sending your luggage and sporting equipment directly to your hotel or resort. With doorstep pickups from your home or business and an on-time delivery guarantee, there's no better way to travel this summer.