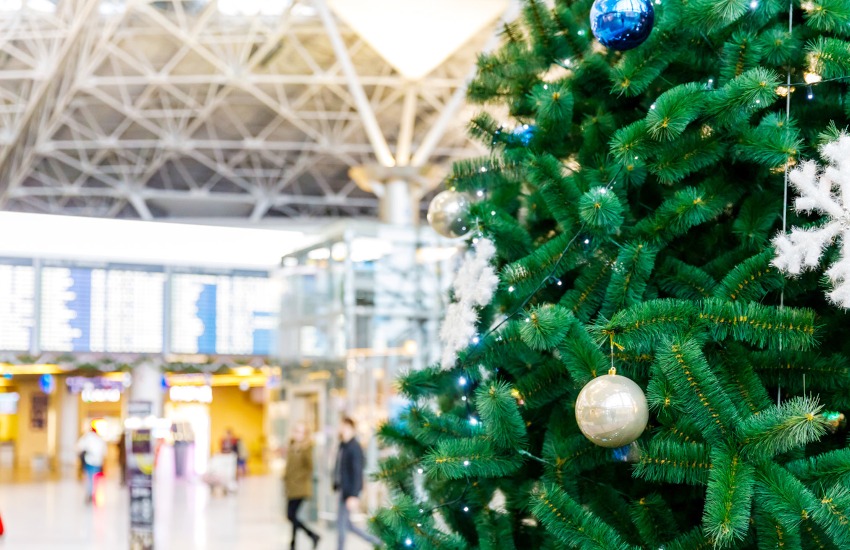 The holiday travel season is fast approaching and, like every other year, it's expected to be a busy one! So whether you're traveling friends, family, or a furry companion, we've gathered the top holiday travel tips you need to know before finalizing your holiday travel plans.

The Secret to Stress-Free Holiday Travel
1. Avoid peak travel days

Most people travel the day before Thanksgiving, Christmas Eve, and the days following the holidays. If able, consider traveling a couple of days prior to the actual day of the holiday. You'll likely pay much less for your flight and you'll enjoy considerably less crowded airports throughout your holiday travel experience.

2. Ship your luggage ahead

Lost baggage, damaged luggage – we've all been there, or at least know someone who has. And the influx of travelers throughout the holiday travel season also means an increase in baggage. This, unfortunately, means there's a greater chance of your baggage missing its connecting flight, getting damaged in transit, or not arriving at all.

The good news? ShipGo will ship your luggage directly to your destination so you can avoid carrying, checking, and claiming baggage altogether. Whether you're traveling with duffle bags, boxes, skis, or snowboards, we can handle it all. Just pack as you normally would for airline travel and we'll ensure your bags are delivered to your destination on-time, guaranteed.

If you're traveling with a pet or young children, shipping your luggage is even more of a must. You'll find that having hands free of baggage (and full of your little ones) is the holiday travel solution you've been searching for.

3. Pack appropriately

If you intend on traveling home from your holiday celebration with souvenirs or presents, be sure to leave extra packing space in your luggage for your new belongings. Airlines do charge additional fees for excess baggage, so consider this while packing to leave for your vacation. Keep in mind, you can always ship excess baggage to your destination or back home at the end of your trip to make your holiday travel experience seamless.

4. Opt for the early or late flight
The only way to truly avoid airport crowds is to not be at the airport when they're most crowded! Book early morning or late night flights, as the majority of travelers will be flying mid-day. Flights at these hours are often less expensive as well since they tend to be less popular than flights during business hours.

5. Expect the unexpected

While the fall and winter seasons bring wonderful times with family and friends, they also bring incredibly unpredictable weather! But, what does this mean for your holiday vacation? It means you need to be prepared for delayed or canceled flights. If you've invested a great deal of money into your holiday travel plans, consider investing in travel insurance to ensure some kind of reimbursement for any travel mishaps.

6. Don't wrap presents
TSA is allowed to unwrap any wrapped presents or packages for inspection. So, unless you want your beautiful wrapping work put to waste, consider wrapping your presents at your destination or simply shipping them to your destination, instead.

7. Minimize airport stress

Even if the holiday travel chaos at the airport is at its peak, there are still a number of easy ways to reduce stress on your travel day. Be sure to dress appropriately – this means wearing comfortable clothing and slip-on shoes for easy processing through TSA. This also means considering signing up for TSA pre-check or even paying for any checked baggage online before arriving at the airport.

If you're traveling in or out of a larger airport, consider researching a map of the airport ahead of your arrival. Doing so will assist in finding your appropriate airport parking lot or terminal.

8. Stay patient

As much preparation as you do, holiday travel will likely still have its ups and downs. It's important to stay patient and think about the end result – cherished time with friends and family!

This year, don't let holiday travel be a hassle. Interested in trying Step 2? Learn more about shipping your luggage this holiday season or get a free quote today!