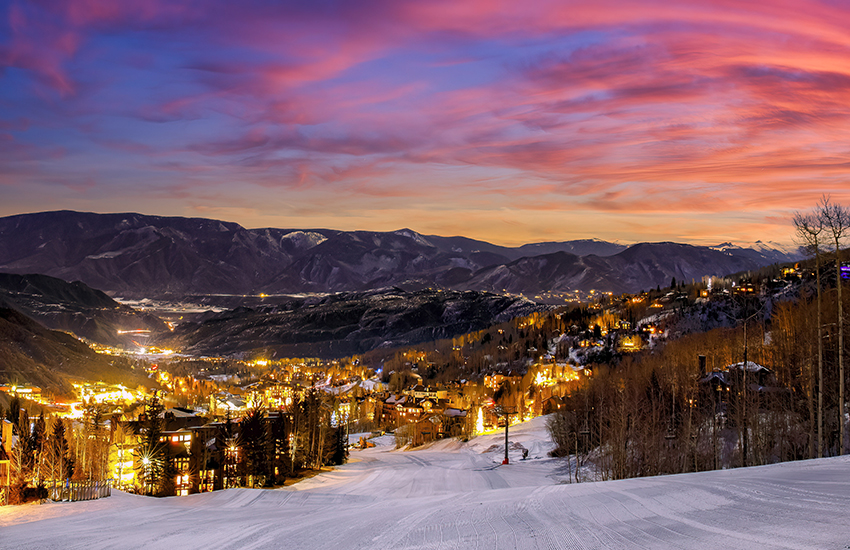 When it comes to skiing and snowboarding on this side of the pond, few destinations compare to Colorado. From epic mountains to world-class accommodations and everything in between, read more about the coolest ski towns in Colorado you'll love exploring this winter season.
The Coolest Ski Towns in Colorado

1. Winter Park

Winter Park, Colorado is home to the longest continually operating ski resort in the state! The area averages more than 300 inches of snow annually and produces some of the best conditions for skiing and snowboarding.

2. Steamboat Springs

Named after the geothermal and therapeutic hot springs around the area, there are so many reasons to visit Steamboat Springs this winter season. It's known for being super family-friendly with a good mix of beginner slopes and advanced trails.

3. Vail

Vail is one of the most famous and most luxurious ski towns in Colorado. The city itself boasts a dramatic European flair with heated, pedestrian-friendly streets. On the slopes, you'll enjoy more than 5,000 acres of skiable terrain with dozens of lifts to access it.

4. Crested Butte

Nestled in the heart of the Rocky Mountains, Crested Butte is one of the coolest ski towns in Colorado. It's typically less crowded than some of the state's other ski hotspots, but certainly isn't lacking in things to do or quality of terrain. It's also one of the best places in the nation for cross-country skiing.

5. Aspen

When you think of skiing in Colorado, Aspen is likely one of the first places that come to mind. After all, it's one of the most famous skiing destinations in the U.S. It's home to four separate mountains (Aspen Mountain, Aspen Highlands, Buttermilk, and Snowmass) with beautiful downtown Aspen at its center.
6. Durango

There are a handful of ski resorts in and around Durango making it a popular spot for skiers and snowboarders. There's a wide variety of terrain, too, so it's perfect for all levels of riders. It is on the less-crowded end of the spectrum which means wide open trails. But keep in mind, it also means a smaller selection of hotels, restaurants, and off-slope activities.

7. Silverton

With average snowfall clocking in at 400+ inches, you're truly in for a treat with a ski trip to Silverton Mountain. It's most known for its legendary heli-skiing acreage. There is also no grooming or clear-cut runs, so only head to Silverton if you're an advanced rider.

8. Keystone

From its well-developed lift infrastructure to its incredible night skiing, Keystone is the ultimate ski town. It's home to three mountains (Dercum Mountain, North Peak, and the Outback) that serve up some magnificent trails. It's also family-friendly with plenty of activities to keep everyone entertained, no matter the age.

9. Breckenridge

Breckenridge has long been regarded as one of the coolest ski towns in Colorado. It has a more laid-back feel compared to the luxuriousness of Aspen and Vail. But, it certainly isn't any less impressive. This former mining town has a bountiful selection of restaurants, accommodations, bars, cafes, and boutiques.

10. Telluride

An average of 300 inches of annual snowfall is just one reason skiers and snowboarders return to Telluride year after year. Another is the jaw-dropping views of the San Juan Mountains and the consistent absence of crowds and lift lines.

11. Salida

Most associate the town of Salida with the lovely Monarch Mountain. It's a very relaxed environment with fewer visitors than others, but still has all the amenities of a larger ski town. This means you're getting that perfect Colorado ski experience, without spending a fortune.

Enjoy stress-free travel to the coolest ski towns in Colorado all winter long. Just ship your skis, snowboard, and luggage ahead! Learn more about how it works or get a free quote today.