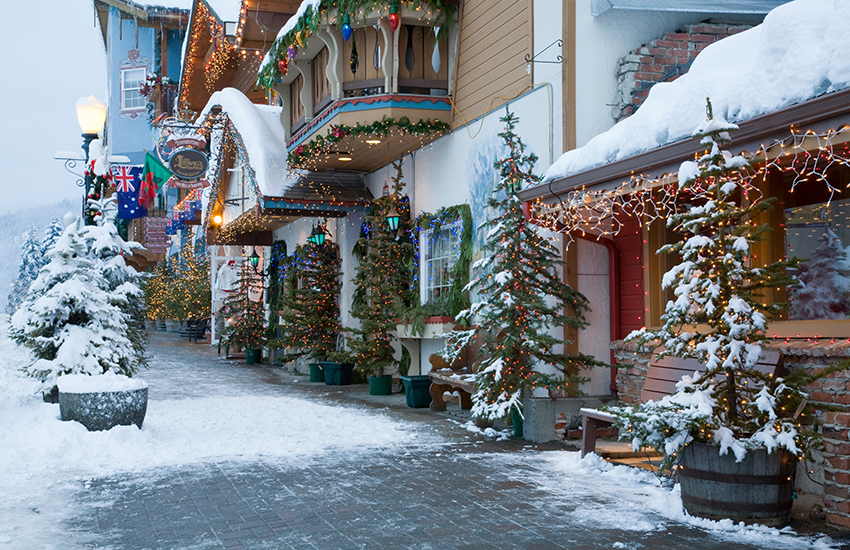 The holiday season was truly made for travel! And whether your vacations are spent on the slopes, strolling the streets, or just spending time with family and friends, we've gathered all of the best places to travel to in December.
6 Best Places to Travel to in December
1. Leavenworth, Washington

The holiday ambiance is absolutely unmatched in Leavenworth, Washington. The Bavarian-style village comes to life every year when December rolls around. Holiday lights blanket the town, carolers sing around every corner, skiers and snowboarders take to the slopes, and so much more.

2. Savannah, Georgia

If you're less interested in the snow and cold weather, consider visiting the beautiful Lowcountry city of Savannah, Georgia. Temperatures can reach as high as 70 degrees making it an absolutely perfect time of year to stroll the moss-draped streets.

3. Aspen, Colorado

Pack up the skis, snowboards, boots, and winter clothes…because a winter vacation to Aspen isn't complete without some time on the mountain. It's one of the best places to travel to in December because there's so much to enjoy. Off the slopes, you can peruse the local boutiques, enjoy world-class dining, or attend one of several holiday events.

4. Orlando, Florida

Head south to sunny Florida for warm weather and lots of fun this December. As you likely already know, Orlando is theme-park central! So, it's a great place to visit if you're traveling with the family this winter season. It's also home to a wide array of premier golf courses and shopping – perfect activities for mom and dad, too.

5. New York, New York

If you've seen Home Alone 2, you know New York is a fabulous setting for the holiday season! With a variety of grand holiday decorations that are spread all over the city, New York in December is the place to be. Take a picture with the tree at Rockefeller Center or head to Times Square on New Year's Eve for the famous ball drop.

6. Mammoth Lakes, California

Mammoth Lakes is another unbeatable destination if you're looking for some epic skiing and snowboarding. But the winter sports don't end there! You and your family can enjoy snowshoeing, ice skating, snowmobiling, and much more.

To enjoy stress-free travel to all of the best places to travel to in December, don't forget to ship your luggage ahead with ShipGo! Learn more or get a free quote today.