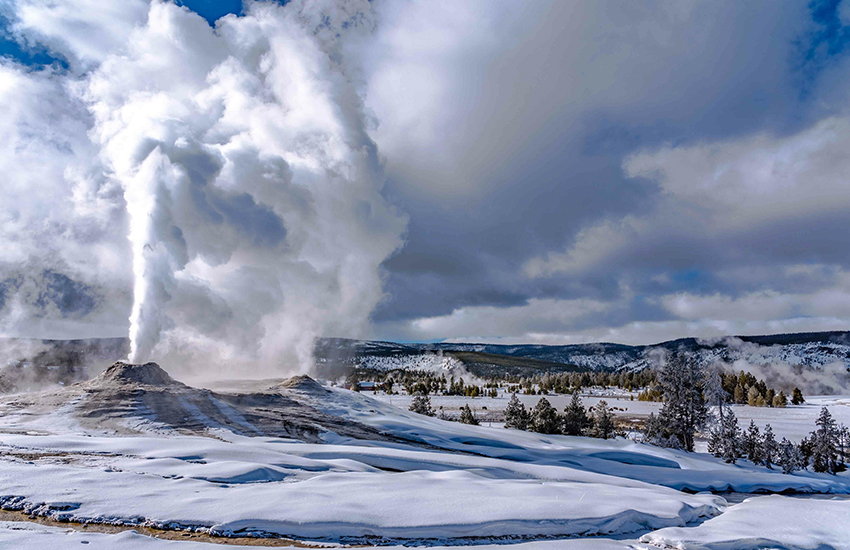 Home to an unparalleled collection of geographical wonders, there are so many reasons to visit Yellowstone National Park. But, you've likely never thought about visiting in the dead of winter! Here's why should you book a winter trip to Yellowstone National Park.

Things to Do on Your Winter Trip to Yellowstone
Enjoy the Solitude

Winter is here and nearly everyone is hibernating. That means there won't be many people coming out to Yellowstone due to the cold temperatures. But, if you can tough it out, it's the perfect spot to enjoy mother nature's bounty without the crowds and with little to no disturbances.

Great for Camping

If you really want to take advantage of a winter trip to Yellowstone, consider staying a night or two. And we mean really staying there. Sure, camping during winter may not initially sound pleasant. But, when armed with the right gear, it can be truly magical. It's far easier to reserve a campsite during winter and the park's Mammoth Campground is open year-round.

Spot the Extraordinary Animals

There are a handful of public and private winter wildlife tours from November to April. This is when you can witness and observe some of the park's most unique wildlife, in their natural habitat, and from a safe distance. A few animals you can expect to see include the gray wolf, which is the main attraction, along with elk, bison, mule deer, bighorn sheep, coyotes, foxes, eagles, and so much more.

Go Snowmobiling

Of the 300 miles of roads throughout the park, only 50 remain open to vehicles throughout the winter months. That's why a snowmobile tour is one of the best ways to explore the park once there's snow on the ground! Ride through the stunning snowy landscape, catch a glimpse of wildlife foraging for food, and even witness a winter eruption of Old Faithful – a famous geyser and geothermal feature in the park.

Nighttime Tours

While Yellowstone is relatively quiet throughout the winter months, it truly comes alive after sundown. You can hear the geothermal springs bubbling around you while staring into the night sky and its thousands of stars. You may also catch a glimpse of the Northern Lights, but the lights are typically only visible a couple of times every year.

Are you ready to plan your winter trip to Yellowstone? You deserve to travel there entirely stress-free. Ship your luggage ahead with ShipGo and avoid all the headaches of carrying, checking, and claiming baggage at the airport.