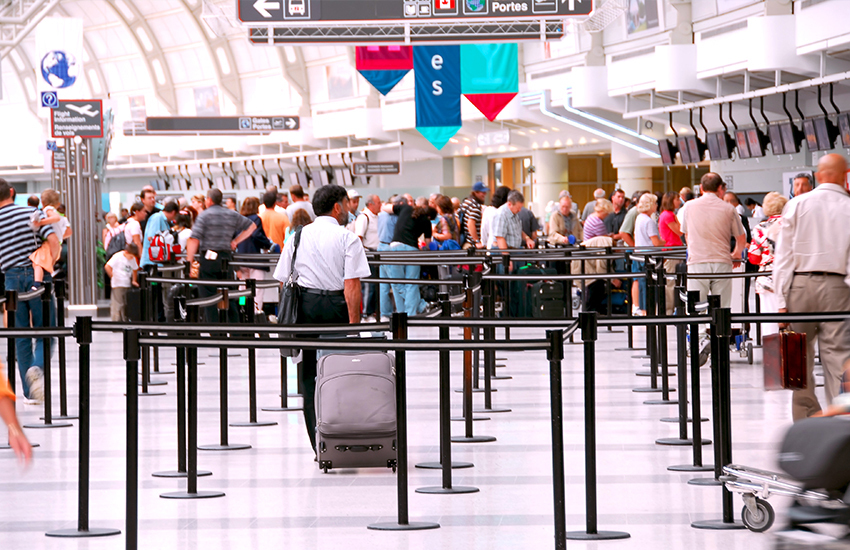 With continuously changing policies and long lines around every corner at the airport, knowing how to get through airport security faster is crucial. Luckily, there are many easy ways to prepare for your trip that will streamline the screening process. From how to pack to what to wear, this is how to get through airport security faster.

8 Tried & Tested Tips to Get Through Airport Security Faster

1. Know What You Can (and Can't) Pack

Packing your carry-on and checked baggage appropriately is one of the most significant ways to get through airport security faster. View TSA's list of prohibited items to ensure that there are no unexpected delays when going through security. TSA also limits liquids in carry-ons to travel-size containers no more than 3.4 ounces. Any containers larger than 3.4 ounces must be included inside checked luggage.

2. Ship Your Luggage

The fastest way to get through airport security is to travel bag-free. When you use ShipGo to ship your luggage and sporting equipment ahead, you can travel through the airport with just a ticket in hand and the peace of mind of knowing your luggage is already at your destination. Customers can have their luggage picked up directly from their home, office, hotel, resort, country club, or ski lodge before heading to the airport. In conjunction with affordable prices, every shipment comes with complimentary insurance, white-glove customer support, and an on-time delivery guarantee.
3. Find Out Where to Go

Research the airport you're flying out of. Knowing where you'll need to go at the airport before you go is one of the easiest ways to get through airport security faster. Be sure to research what your designated terminal will be, where you'll need to go if you're checking baggage, and where you can expect to get in line for your security check.

4. Sign Up for TSA PreCheck

For frequent flyers, signing up for TSA PreCheck is a great way to get through airport security faster. While TSA PreCheck is not available at all airports, the service includes a dedicated security line in which you can keep your shoes, belt, and jacket on. You will also be able to keep your laptop, food, and liquids stowed inside of your bag.

5. Dress Appropriately

One of the most crucial steps in learning how to get through airport security faster is knowing how to dress. First and foremost, wear slip-on shoes. There's nothing worse than holding up the TSA line trying to lace your sneakers back up. Additionally, avoid wearing a belt as it must be removed when going through TSA. A jacket with large pockets is a great idea, too, so you can stash your phone or wallet after getting through security.

6. Have Your Paperwork In-Hand

Before even going through TSA, you'll need to provide the security agent with your boarding pass and proof of identification. While this may seem like the easiest part of the screening process, it's easy to lose your boarding pass or ID at the bottom of your purse. Have your boarding pass in-hand, whether it's printed or on your cell phone, and your ID or Passport ready-to-go, too, to get through airport security faster.

7. Be Ready to Unpack

TSA requires that your electronics and liquids be removed from your baggage. So, it's best not to pack these items under all of your clothes and shoes. To get through airport security faster, make sure these items are in the outer pocket of your luggage or a readily available spot for easy unpacking and repacking.

8. Be Personable

Remember, TSA has to deal with millions of people every day. Security agents want you to get through TSA quickly, too, so it never hurts to be friendly and thank them for their help.