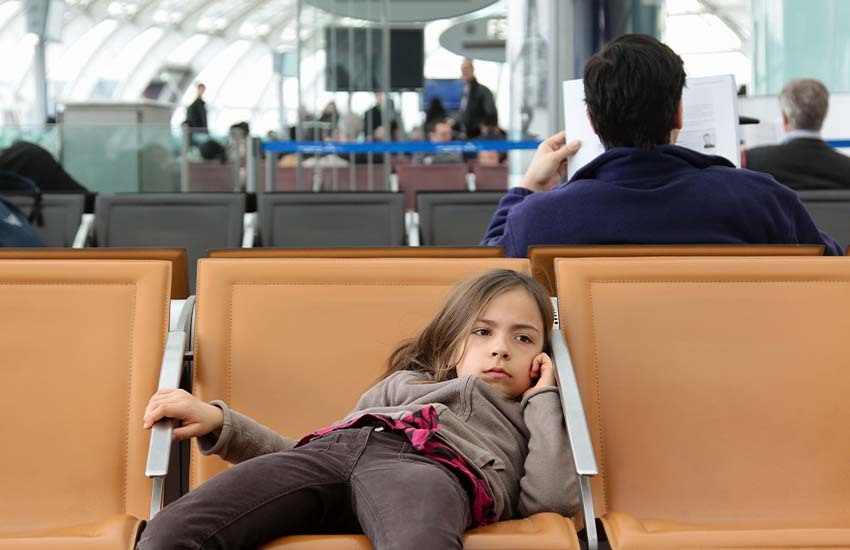 Traveling via air is a lot of hurry up and wait. Rush to your gate only to wait for hours to board. Rush to board only wait for another hour to depart. And for those with a connecting flight, a layover or two means even more waiting! So, why not put a positive spin on that extra downtime? We've found the best ways to pass time during an airport layover.

How to Pass Time During an Airport Layover

1. Stretch your legs

We've said traveling is a lot of hurry up and wait. But it's also a lot of sitting! For your own physical health (and mental health), take a stroll around the terminal or airport. These days, airports are almost like mini shopping malls. Most airports have several stores to peruse or restaurants to grab a bite to eat. So, don't take a nap… get those steps in!

2. Find an airport therapy animal

Believe it or not, there are several airports across the nation that have working therapy dogs in terminals. Dogs are actually a stress-reducer, so if you're feeling overwhelmed with your airline experience, just give fido a few pets.

3. Take a tour

If your layover is long enough for you to actually leave the airport, 1) we're sorry to hear that! And 2) take advantage of it! Most layovers are in major cities that you likely have never visited before. If time allows, get out of the airport and take a quick city tour. The best way to do so in a small amount of time is likely with a guided tour of some kind. So, do a little research before your layover, get those tour tickets booked, and enjoy!

4. Catch up on work

You're on vacation and the last thing you want to do is work… we get it! But if there was ever a time on your much-needed getaway to make a few calls or send a few emails, it's best to do it before arriving at your destination. Because you're likely not doing much during your layover anyway, consider using that time to knock out those final work assignments.

5. Catch up on sleep

Sleeping in the airport. You either love it or you hate it, right? Luckily, you don't need to fall asleep in those small chairs at your gate to get some shut-eye. Airports are becoming much more accommodating and many even have rooms you can rent for a short period of time for a quick nap.
Now that you know how to pass time during an airport layover, learn more about shipping your luggage ahead with ShipGo!