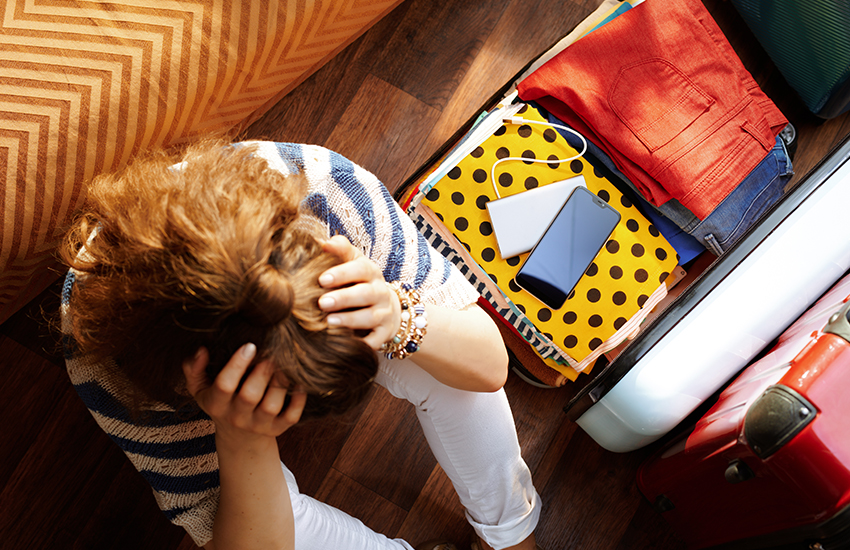 While traveling oftentimes means you're headed towards a relaxing vacation, actually getting to your destination can be incredibly stress-inducing. From long lines, large crowds, and everything in between, airport travel is sure to make your trip more stressful than it needs to be. Shipping your luggage ahead is a great way to relieve travel stress, and no one does it better than ShipGo.

7 Ways to Reduce Travel Stress on Your Vacation

1. Plan Ahead

The best way to avoid travel stress is to be prepared for any situation. Plan ahead and have a set time you need to be at the airport to allow you enough time to be cleared through TSA and arrive at your gate. If you need to check baggage or grab a bite to eat before boarding, add additional time to your travel itinerary to ensure you're not rushing to your gate.

2. Pick an Early Flight

One of the easiest ways to reduce travel stress is to pick an early departure time. Early-morning flights have a small probability of being delayed since they're the first to depart the airport for the day. If you're worried about a delayed flight and the ensuing travel stress, consider picking a morning flight if you're able to.

3. Check-In Online

Many airlines allow you to check-in for your flight from a mobile app or on their website, so you can arrive at the airport with your boarding pass already in hand. Some airlines even allow you to register checked baggage online, too, so you can bypass long lines or baggage kiosks at the airport and ultimately reduce travel stress.

4. Ship Your Luggage Ahead

ShipGo allows you to ship your luggage and sporting equipment ahead of your arrival. Doing so eliminates the need to carry, check, and claim baggage – arguably the most notorious culprit for inducing travel stress. When you ship luggage ahead, you can enjoy breezing through the airport with just your plane ticket and a book in-hand. Learn more about shipping luggage and sporting equipment ahead.

5. Have Backup Copies

A huge cause of travel stress is arriving at the airport unprepared. The best way to avoid travel stress like this is to have multiple copies of important paperwork. This doesn't mean printing 5 copies of your boarding pass, but rather printing one extra one and having a mobile version on your phone. Consider making copies of your driver's license and passport, too. It's unlikely you'll need these, but knowing that you're prepared for any travel circumstances is a great way to alleviate travel stress.

6. Dress Smart

Getting through TSA can cause more travel stress than it's worth. An easy way to minimize time spent getting through TSA is to dress smart. You know you'll have to remove your shoes, so consider wearing slip-ons or shoes that don't require being laced back up.

7. Bring Entertainment

Whether you've downloaded a new movie onto your phone or brought along a great book, staying entertained while waiting to board your flight or while on the plane is one of the best ways to reduce travel stress.