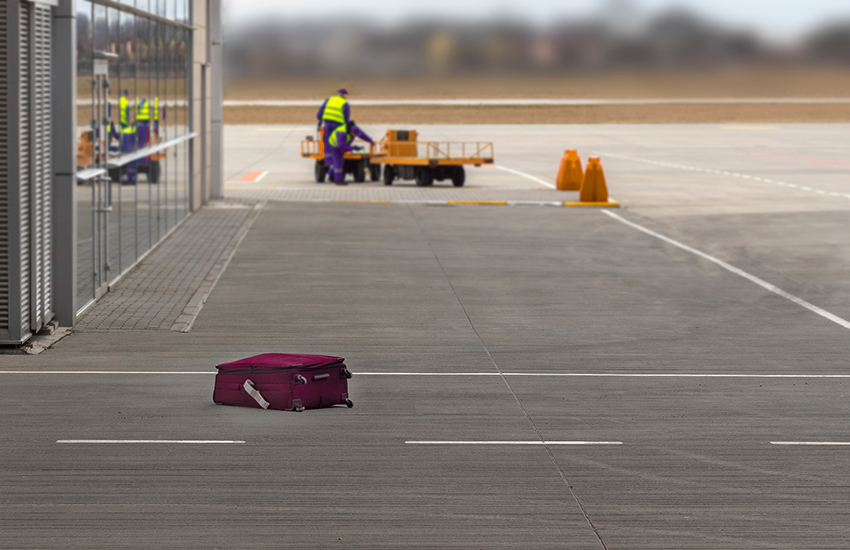 The great news? Travel is on the up and up following the COVID-19 pandemic. The bad news? Airport baggage handlers across the globe can't keep up with the demand – resulting in a shocking increase of lost, damaged, and delayed luggage. Could you imagine losing your luggage? And your dream vacation being ruined before it even begins? Mishandled baggage is an unfortunate reality for so many travelers. And the numbers speak for themselves.

In April of this year, nearly 220,000 bags were mishandled by U.S. airlines alone. What's arguably more shocking is what that number was one year prior: 94,000.
What could account for such a steep increase in mishandled baggage? Staff shortages…across the board.
And the lost luggage chaos isn't limited to domestic travel. Take Heathrow Airport in London for example where thousands of bags were abandoned. In fact, Delta had to coordinate a plane, with no passengers, to transport 1,000 pieces of luggage back to their owners in the United States. That's 1,000 stranded bags. 1,000 frustrated travelers. 1,000 vacations ruined.
The summer saga of mishandled baggage was on full display recently at Edinburgh Airport, too. Inundated by travelers attending the Open Championship, thousands of suitcases and golf bags were left unattended in and around the airport. And no security appointed to guard the baggage meant that anyone could take it.
On the bright side, most airlines do offer some kind of financial compensation for mishandled baggage. But, how can you put a dollar amount on the stress, disappointment, and financial burden that lost luggage may cause? You simply can't.

You shouldn't have to risk losing your luggage just to explore a new destination. And that's what ShipGo is here for.

ShipGo is the most affordable and convenient alternative to carrying, checking, and claiming baggage at the airport. ShipGo will ship your luggage and sporting equipment to your destination so you can travel stress-free.

Shipping luggage ahead is a great way to ensure your luggage actually makes it to your destination. But, there are so many other benefits, too.

Firstly, you won't have to wait in long lines at bag check or drag your carry-ons through TSA. Second, those pesky overhead bins? Not of your concern! And lastly, the dreaded wait at baggage claim hoping for your luggage to roll out will be completely avoided.

And the best part? ShipGo makes it easy to send baggage ahead. We'll come to your home, office, hotel, or resort to collect your luggage. All you have to do is pack! All shipments come with a minimum of $500 of complimentary insurance and an on-time delivery guarantee, ensuring your bags are where you need them, when you need them there.

Track your bags every step of the way or just check your email inbox for updates. You can even download the ShipGo iOS app for easy booking and tracking. It's that simple.

And because ShipGo services 180 countries and territories, international travel has never been easier. We'll even handle that confusing customs paperwork for you!

Why risk losing your luggage on your dream vacation? Just ship your baggage ahead. Learn more about ShipGo or get a free quote today.