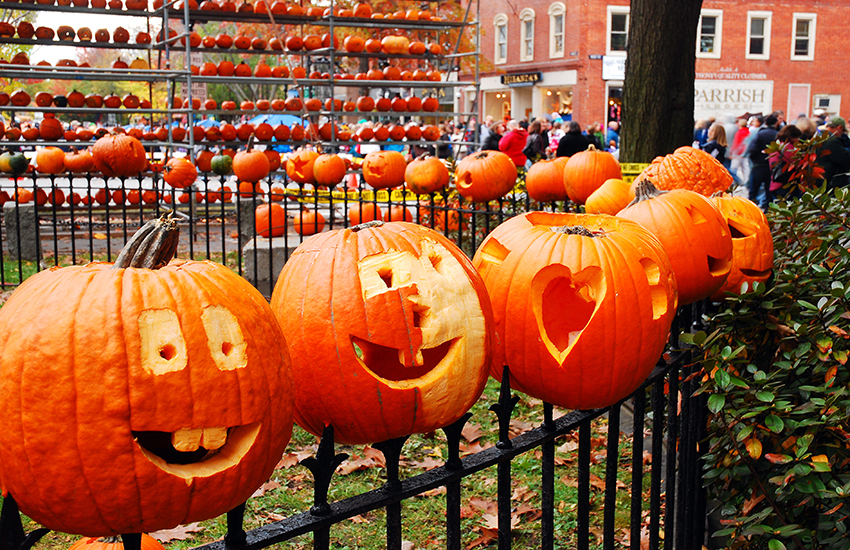 From festivals to parades to incredible costumes and more, some towns really know how to celebrate Halloween! If you're looking to get in on the fun, check out these best places to visit for Halloween in the U.S.

Spookiest Places to Visit for Halloween

1. Orlando, Florida

The warm sun and blue skies of Orlando, Florida aren't exactly scary! But, that bright and happy atmosphere takes a dark turn with a visit to the world-famous Universal Studio's Halloween Horror Nights! The Halloween-themed event takes place on select nights from September 2nd through October 31st this year. You'll experience ten different haunted houses, five scare zones, two live shows, themed food and drinks, and so much more!

2. St. Helens, Oregon

Located just 45 minutes outside of Portland, Oregon is one of the best places to visit for Halloween: St. Helens. Home to the Spirit of Halloweentown, St. Helens truly comes to life during October. This year, the event is running from September 17th to October 31st. Visitors can brave the epic haunted house, spend an evening at the Pumpkin Puzzle Plaza, dance to live music, and even meet celebrity guests from television shows like What We Do In The Shadows and movies like Twilight where some scenes were actually filmed in the area!

3. Salem, Massachusetts

With its mysterious and dark past, few cities are as naturally scary as Salem, Massachusetts. Add in a few jack-o-lanterns and a haunted house and the area gets even spookier! Most known for the Salem witch trials in the late 1600s, Salem remains a popular destination for Halloween enthusiasts, paranormal investigators, and more. That's why they dedicate a whole month to their Haunted Happenings – one of the largest Halloween celebrations in the world. More than half a million people are expected to visit Salem to enjoy Halloween parties, parades, walking tours, special events, haunted houses, and, of course, extraordinary costumes.

4. Williamsburg, Virginia

Williamsburg, Virginia is not only one of the best places to visit for Halloween, but it's one of the most unique, too. One of the most popular activities, especially for kids, is the Haunting on DoG Street. It runs from October 14th to the 31st and offers all kinds of Halloween festivities along Duke of Gloucester (DoG) Street and throughout Colonial Williamsburg. Nearby Busch Gardens Williamsburg also hosts Howl-O-Scream from September 9th to October 31st. Visitors will love the haunted houses, sinister shows, booze bars, and more!

5. Anoka, Minnesota

Dubbed "the Halloween Capital of the World," you bet Anoka, Minnesota takes Halloween to a whole new level! Parades, bonfires, costume contests, ghost tours – you name it, Anoka has it! The city's Halloween festivities date back to nearly a century ago when Anokans decided that a Halloween celebration was the best way to distract the young Halloween pranksters from wreaking havoc!